At times in your life you may have received a ring as a gift from a loved one or significant other, maybe to celebrate a major milestone in life like an engagement or a wedding or as a birthday or anniversary gift. Perhaps you received this ring as an inheritance.
No matter how a ring comes into your possession, there's a good chance it will need to be resized now or in the future to ensure the best possible fit.
If this happens to you, there's no need to worry. With the right care and attention to detail, resizing your ring can be an easy and seamless process.
A good jeweler can easily handle your ring sizing and any other services you may need. Often it can be conveniently serviced at the same place the ring was purchased.
How Are Ring Sizes Determined?
Ring sizes are measured from your ring's inner diameter. This outside of the band is less helpful because it may contain stones, which makes it thicker. Another cause of confusion is that U.S., E.U., and U.K. ring sizes are all expressed differently. For example, a 17.35mm diameter measurement is a size 7 in the U.S., an O in the U.K., and a 54.4 in the E.U.
If you're buying or resizing for yourself, you can start by using a tape measure to get a sense of your finger's circumference and diameter. You can also buy plastic ring sizers for home use to take your measurements or even use a digital app. Keep in mind that many jewelry companies have their quirky way of measuring size so your measurement alone may not be useful. A more reliable method is to use one of your old, comfortable rings and a sizing guide for buying a new one. For even more accuracy, go to a smart and diligent jeweler like Brinker's Jewelers. The jewelers can use a metal ring sizer to get a very accurate size for you.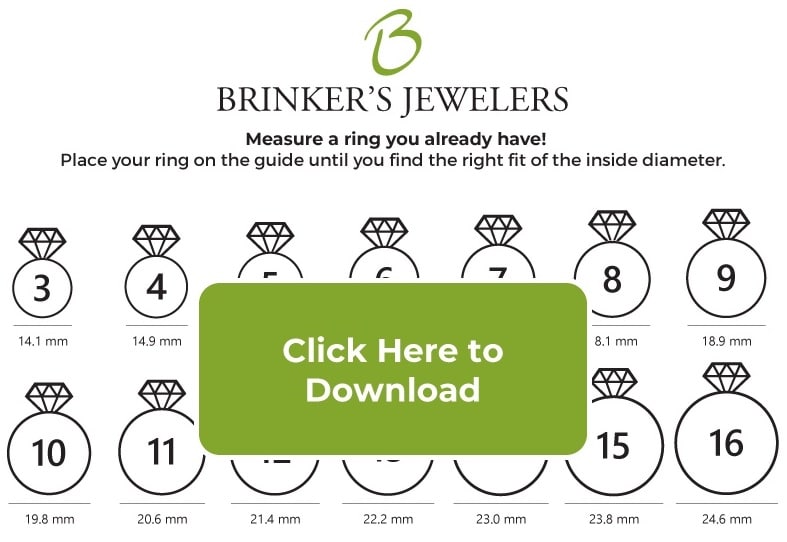 Your fingers can change proportions throughout your life for a variety of reasons. These can include: 
Temperature and climate: Heat expands your fingers, so they are bigger in the summer than in the winter, or after you've taken a hot shower. Similarly, the cold may shrink your fingers, so they're smaller in winter or after you go for a dip in the ocean. If you have moved or regularly visit a different region with a different climate, you may find your rings fit differently depending on where you are located.
Lifestyle factors: Consuming salt or alcohol or flying in airplanes can cause your hands and feet to swell. If these are things that you do on a regular basis, you might consider a larger ring size.
Activities: Sports like yoga or climbing can strengthen your finger muscles, leaving you with slightly different proportions. Your occupation may also involve movements that require a lot of hand movement, this could also affect the size of your fingers. Also, gaining or losing weight will affect your ring size.
These factors, and many others, are why if you have a ring that sits comfortably on your finger, it may feel different over a day, a year, or even decades.
A word of caution: If you're buying a ring for a loved one, you should err on the side of a larger ring. Even if you choose the most striking engagement ring in the shop, a simple ring resizing can take it down to a perfect fit. You might consider a stealth approach by "borrowing" a ring you know fits your loved one and using a sizing chart or digital app to help you.
How Should A Ring Fit?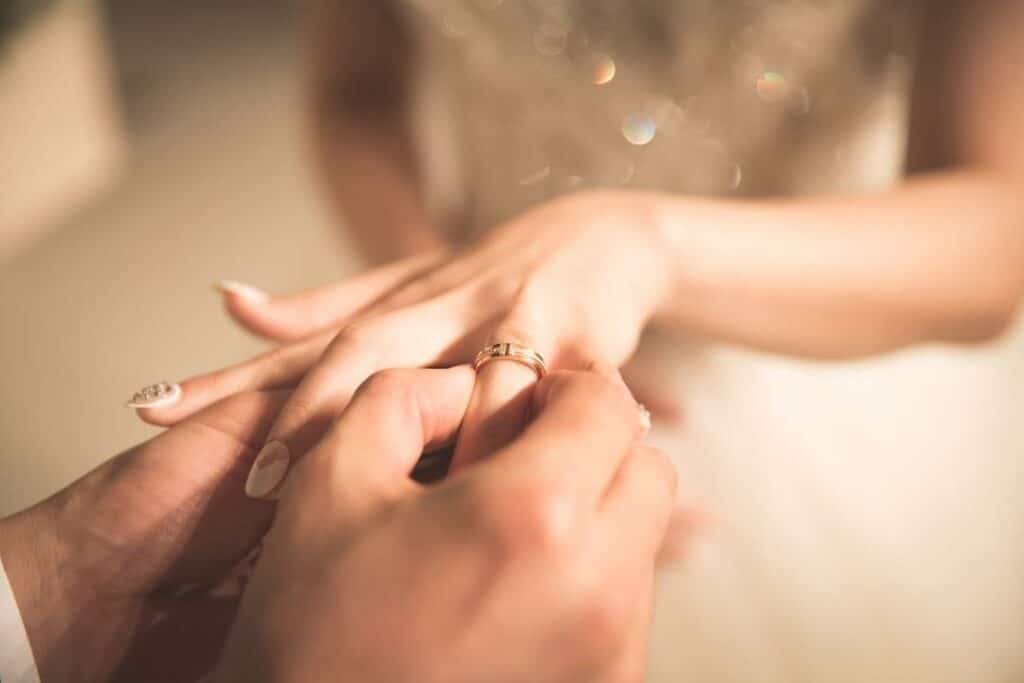 This is a slightly personal choice, just like wearing any piece of clothing or jewelry. Generally speaking, a ring should fit snugly but not too tightly. You want it to stay on your finger while not giving you too much resistance when you want to slip it off over your knuckle.
It mustn't be too tight because, as mentioned above, your fingers will contract and expand throughout your life or even day. You need a bit of give to accommodate the times you fly on a plane or spend time in a hot climate. At the same time, most ring wearers don't like the feeling of their rings slipping around and you don't want to be constantly worrying that your ring might fall off.
If you're not sure, work with an experienced jeweler to find the right balance for you.
It is important to note that sometimes different styles of rings will sit differently on your finger. A heavy ring with a large stone may take more getting used to than a light band. A wider band may feel tighter because it covers more of your finger than a narrow band.
Fortunately, ring resizing can be achieved in tiny, incremental amounts. After all, rings come in generic sizes and everyone's fingers are unique.
How Much Can You Change a Ring's Size?
Two sizes each way is the general rule.
When you're buying, keep an eye out for a ring that's quite close to what you'd like to wear. If you're buying an engagement ring, try to get an idea of how big your partner's fingers or existing rings are. Of course, you want the big moment to be a surprise so you'll need to be subtle.
You don't want to risk completely changing the look of a ring. Resizing by large amounts is especially difficult with rings that contain numerous jewels or complex settings. It should be noted that rings completely studded with gems probably can't be resized as there's no clear expanse of metal that can be altered.
You could also run the risk of damaging the integrity of your ring's materials. Some rings, like those made of titanium or involving tension setting, probably can't be altered, either. If you've had a negative experience with ring resizing in the past, choose a trusted jeweler and get the repairs and maintenance you need.
How Is Resizing Done?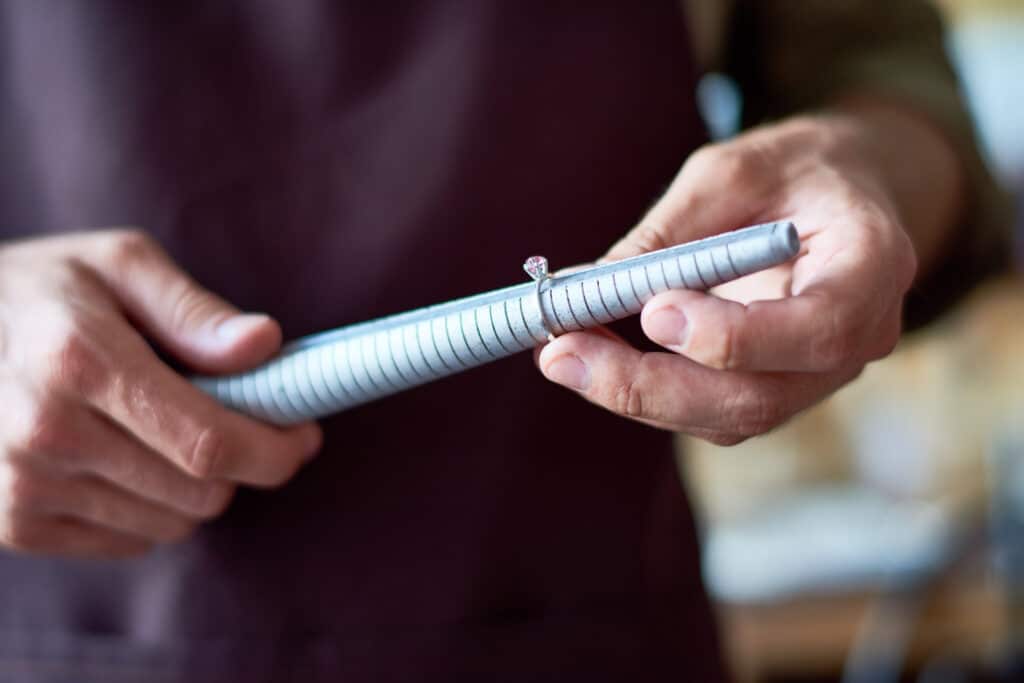 A jeweler will resize your ring either by hand or by machine. More delicate rings are usually treated carefully by hand. Resizing by hand is more expensive than doing it by machine, but it can be worth it for incremental sizing and a more bespoke, exact approach. It may also be necessary to resize by hand if there are details on your ring, for example a vintage ring with engraving, that you want to preserve. Check with your jeweler which method is better for your ring.
To enlarge a ring, new metal can be added to your existing ring and then polished to look seamless. Alternatively, your ring can be stretched. Stretching may be cheaper, as it doesn't involve new materials, but it could also run the risk of weakening your ring because it thins out the band.
To decrease a ring's diameter, your jeweler will take a little of the band's metal out and then solder the ring back together. This can be a delicate operation, but there's nothing to worry about so long as you engage experts in the field of resizing to help you.
Find a jeweler that cares as much about your precious objects as you do. Make sure the jeweler can truly match the material your ring is made of and make it look perfectly seamless.
If you don't want to alter the structure of a ring, you can add a sizing assistant or inlay to the ring. This can help your ring fit more snugly by around a quarter size without making any permanent changes.
How Long Does It Take to Resize a Ring?
Quick jewelry fixes like buffing, polishing, and cleaning your jewelry can often be done while you wait or within a few days. You may even find a local service like Brinker's Jewelers' popular "Spa Day" option for rings to make them shine like new.
It can take a little longer to properly resize a ring. Since every piece is unique and varies in complexity and fragility, it's best to talk to an expert about resizing.
Sometimes, resizing can subtly alter the ring's shape from perfectly round to slightly ovoid, especially if the jeweler wants to preserve some subtle details or delicate settings in a vintage ring. Make sure it's what you want, and that you keep open lines of communication with your ring's resizer, to make sure you're both on the same page.
When having your ring resized, remember to build time into the process so that you can try the ring on again and make sure that it fits properly and allow time for any fine tuning adjustments. While some jewelers may offer same-day resizing, Brinker's Jewelers recommends allowing at least a week for proper cleaning and metal work necessary and to avoid any "rush" service fees.
The Best Way to Resize and Take Care of Your Jewelry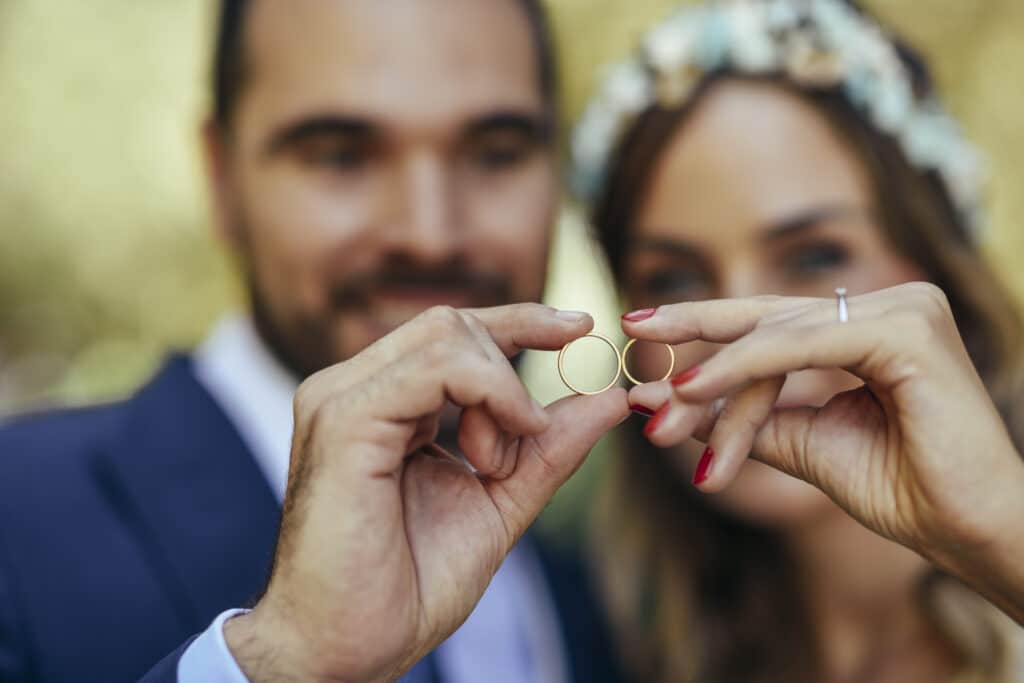 The value of jewelry isn't just financial, it's sentimental. The best way to resize your rings, or otherwise look after your precious objects, is to shop with an experienced and caring team of experts as you'll find at Brinker's Jewelers.
Brinker's Jewelers is a full-service jewelry store that offers services such as jewelry cleaning, ring sizing and ring resizing, setting and tightening of diamonds, engraving, pearl restringing, and appraisals, and if you buy your ring from Brinker's Jewelers directly, you can expect to be moved to the head of the queue for services. If you're looking to buy or resize a ring your loved one will adore — and get all the follow-up care you may need — get in touch with Brinker's today. To get started, download the Brinker's printable ring sizing chart to find out which ring size will work best!