The rose color of the sky at dusk. A perfect glass of rosé at a celebratory brunch with friends. The millennial pink that recently took the world by storm. It's no surprise that rose gold has charmed millions from ancient Colombians who loved rose gold, developing sophisticated techniques to achieve the color they wanted to the Roman Empire who prized pink-colored gold,  to Henry VIII, who dubbed it "red gold." 
 Like all gold, rose gold is glamorous and luxurious, but rose gold has an additional warmth. Therefore using rose gold as the base of an engagement ring shows your beloved how special they are.  
Rose gold is both feminine and strong, and so can be styled and fashioned in many different ways, depending on your personal style. It's a shade that defines contemporary color, but has a rich history. 
The History of Rose Gold
Rose gold can occur naturally, tinted pink by copper, but is mostly created intentionally by mixing copper and gold together. Rose gold production truly began in 19th Century Russia, when a precise alloy of gold and copper was blended by master jeweler Carl Fabergé, who used it for his legendary Fabergé eggs.
Fabergé's brilliance laid in his ability to absorb different styles and creatively blend them, from Art Nouveau to Louis XVI to Rococo. Fabergé was also an expert in contrasting the color and texture of the materials he used so as to emphasize their individual qualities. In his Rose Trellis egg, he used emeralds against rose gold filigree to create tiny, delicate rose blooms against a lattice of green leaves. Fabergé was a trendsetter, his eggs still in high demand. His seal of approval to rose gold made it a desired material for use in jewelry across Russia and Europe. Fabergé's Rosebud Egg, now housed in the Fabergé Museum in Russia.
Rose Gold and Classic Royal Styles
Rose gold was well-suited to gorgeous royal and Victorian styles (pink and gold are both common colors in dresses made for Queen Elizabeth), making it a popular fashion accessory. Elaborate brocade, nature-themed embroidery, and extravagantly rich materials are all accurate associations with British royal fashion and jewelry. Even modern royal designs harken back to Victorian finery. Queen Victoria's own engagement ring from her fiancé Albert was an unconventional one in the shape of a serpent, with rubies for its eyes, a diamond for its mouth, and an emerald, which was Victoria's birthstone. Their love inspired the Romantic Period (1840-1863), 23 years of a nation infatuated with their new king and queen and their love for one another.
Romantic Era (c.1798-1832) jewelry was sentimental and nostalgic in style. According to the Gem Society, Romantic Era rings used good quality gold and featured intricate metalwork, as well as motifs like "eyes, hands, hearts, anchors, crosses, arrows, clovers, love knots, garters, buckles, vines, and leaves." Romantic Era jewelry stressed abundance and ornateness, like pearls arranged in profuse grape clusters. Rose gold rings dating back to the Romantic Era, like this Italian one from the 1820s may seem a little roughly made to our eyes, but it is a gold ring with a high four clawed bezel, set with a sapphire, and required a good deal of craftsmanship to create its hoops and fleur-de-lis motif.
The early Victorian era coincided with the Industrial Revolution, allowing for new ways of making jewelry. Jewelry was no longer exclusively made by hand, which allowed for its popularity to spread throughout society. 
According to the Gem Society, "gemstones were often set in claw-like prongs or collet settings, metal that encircled the outer rim of the gemstone," as well as interest in Gothic, Medieval, and newly-excavated sites of Ancient Greek, Egyptian and Roman sites. The Gold Rush in  California and Australia ushered in a plentiful supply of material, which jewelers made use of.
When you're choosing a ring, you're saying that you know and love your fiancée's style. If she loves Jane Austen or other classic British writers, or else all things British-royal, consider a rose gold ring influenced by Victorian style. You don't have to worry about it feeling dated. Beautiful, ornate settings always remain in style, and there are many popular styles of rose gold engagement rings now that blend contemporary techniques with Victorian-style filigree and ornate metalwork, and make use of gems like diamonds,  garnets, and pearls, which were all popular in the Victorian era.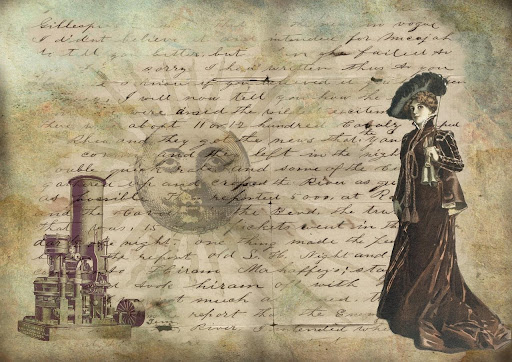 Rose Gold and The Roaring Twenties
According to Encyclopedia Britannica, Art Nouveau design flourished between about 1890-1910 in Europe and the US. It emphasized natural, sinuous curves and branch-like forms. The classic Paris Métro station is an example of the classic curves of Art Nouveau, as are the posters of Czech painter Alphonse Mucha.
Changing social mores and technological advances meant that in 1914 or so, Art Nouveau gave way to the era of Art Deco. Art Deco icons include the Chrysler Building in NYC, with its refracted gleaming panels and skyscraper top, and the Orient Express train, with its sleek lines and sense of rushing into the future. During the Jazz Age of the 1920s — the era of flappers, fast cars, and F. Scott Fitzgerald's Lost Generation — rose gold gained popularity for its effervescent, romantic quality. According to Sotheby's, designers like Cartier used rose gold to add "warmth and femininity" to their designs. Rose gold also paired well with striking, beaded, Art Deco dresses and headpieces, which often featured feathers and other exotica.
Art Deco jewelry made use of bold, angular shapes, with clean, geometric shapes inspired by both Ancient Egyptian and Asian artifacts. It has a sense of excitement and hope about the future. Art Deco, according to Christie's, was "celebrating the triumph of technology and the sleek, liberating forms of  the machine age" and reflected a "widespread desire for order in the wake of chaos." Art Deco reveled in clean lines and bold use of color, and found eclectic and stylish ways to evoke the machine age. 
Today, Art Deco-inspired jewelry makes use of rose gold to warm up its bold but intricate designs. If you want a ring with a spirit of fun, excitement and optimism, consider a rose gold Art Deco engagement ring.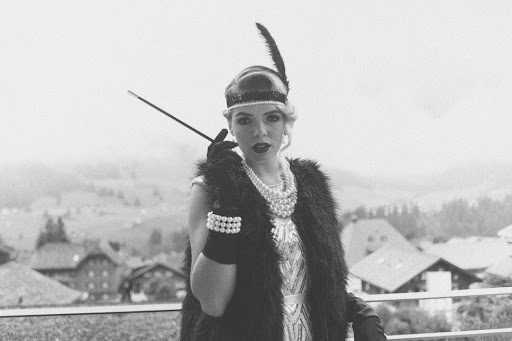 Rose Gold After WWII
When the country's mood changed after the Great Crash of 1929, cold and icy platinum became the material of choice. Platinum's dominance of jewelry would last till WWII, when platinum was required for military purposes and became a scarce and expensive resource. This turn of events brought rose gold back to the fore as a material for jewelry. 
Once rose gold had displaced platinum as the most popular metal for jewelry, it maintained its position. With the baby boom and rising marriage rates, engagement rings were once more in high demand. 1940s jewelry tended to be showier, chunkier, and more playful than the elegant pieces of the 1930s. Brooches became popular, as did fruit-themed necklaces. Rings became more geometric, with synthetic gems being used for the first time. 
Rose gold is a supremely versatile material, so it adapted well to the new synthetic materials and the more robust metalwork that came into vogue in the 1950s. 
Rose Gold and Contemporary Style
Twisted Bands
Twisted bands are an increasingly popular style, both classic and edgy, romantic and slightly punk. They hearken back to early metalwork, like this Viking arm ring in the British Museum. Twisted bands feel romantic and provide striking ways to show off diamonds and precious gems, which can stud the bands. Braided rings are a slightly more delicate variation on twisted bands.
Filigreed Rings
Filigreed rings call back to the era of Victorian craftsmanship, but new techniques of mechanical ring production can provide even more detail and dazzling metalwork than was possible then. Filigreed rings often showcase a round cut center stone, surrounding it with sophisticated detailing.
Simple Bands
Classic and unadorned, simple bands allow the beauty of the materials to shine through. They are sleek and sophisticated. In traditional Jewish culture, for example, a simple band is considered the best, connoting a smooth and easy relationship with no difficulties. Simple, minimalist bands are timeless and elegant, and a simple band of rose gold on any woman's finger highlights her own natural beauty.
Contemporary Art Deco
The Jazz Age is well behind us, but with the end of the pandemic in sight, some are predicting another possible Roaring Twenties ahead of us. Clever designers can evoke the Art Deco era by using such design features as bold geometric shapes, bold color, clean lines, sophisticated mixing of gemstones with rose gold and allusions to cultures like Ancient Egypt and Chinese design motifs.
Rose Gold and Complementary Gems
As Fabergé showed, rose gold is a delicate material that matches well with many gems, including: Diamonds, emeralds, pearls, opals, amethysts, ruby and morganite.
‌Rose gold is a very versatile as a material that flatters all shades of skin. Like most varieties of gold, it is quite soft and ductile, allowing itself to be delicately styled and shaped to accentuate the cut of the stones it's paired with
Conclusion: Rose Gold Vintage Style Engagement Rings
If you're looking to bring the warmth, romance, and beauty of rose gold to your engagement and relationship, Brinker's Jewelers offers a stunning array of rose gold engagement rings. They range from simple to opulent and invoke all the rich history and excitement of rose gold while bringing it brilliantly to the contemporary era. A glamorous halo-style ring with an emerald-cut center stone has all the energy and dynamism of an Art Deco piece, as does this elegant round double halo diamond engagement ring.
Decadent and elaborate, this vintage-inspired rose gold cushion halo round diamond engagement ring features unique and intricate scrollwork that would not be out of place in a royal Victorian showcase. Similarly, this sophisticated number features a ravishing openwork design, formed by floating crescent silhouettes and sophisticated milgrain detailing that will make you feel like a storybook princess. This spectacular ring is stylish and sparkly, featuring three rows of shimmering pavé diamonds that criss-cross beneath your round center stone. It actually combines elements of Victorian and Art Deco design to make something completely new and contemporary.
If it's a simpler band you're looking for, however, this ring is elegant and timeless, showing off the center stone with the warmth that rose gold is known for. 
There are also many styles between elaborate and simple, like this twisted engagement ring, simple and intricately detailed, has lovely handcrafted braids showing off the side and center stones.
When choosing an engagement ring you want to start off on the right foot, er finger. Although Rose Gold is currently a popular choice, it has a unique and rich history. If you are looking for a ring that will make your partner think about you every time they glance at their finger, look no further than Brinker's Jewelers. Let us help you make the challenging decision of choosing the perfect ring for your loved one.