Are you a fiancé-to-be? Are you struggling to determine what ring style your partner would prefer? Are you patiently awaiting that proposal? Are you biting your nails, hoping your partner chooses a ring that most appropriately reflects your relationship?
We know those decisions can be stressful.
But don't worry. We're here to help!
You've been browsing the web. You've been stalking the jewelry stores counters, but you're still not quite sure which style would work best. You've had your thoughts about yellow gold, but you feel like the trend won't last.
Why you should consider white gold:
While white gold hasn't been an industry standard as long as yellow gold, it has quickly become the preferred engagement ring metal for those who look for value, strength, and longevity.
Proposing with a white gold ring is the perfect way to add some shine to the surprise!
Is White Gold a Strong Metal?
Gold is technically a soft metal. It's quite malleable and has the potential to change shape over time. Due to this pliability, several other metals must be combined with the gold to increase its overall strength. Copper, nickel, and Zinc all aid in your engagement ring's durability. The properties of these metals create the ring's white color.
Rhodium Plating: Why is it Necessary?
We all need some extra strength sometimes. Engagement rings are no different.
The thin white rhodium plating makes the ring bright, reflective, and extremely tough. Rhodium is not easily tarnished, which makes it the perfect protective covering for your engagement ring, a symbol of love and longevity.
White Gold Longevity: When Should I Re-plate my Ring?
Remember, you'll be wearing this ring every day for the rest of your life, so it's extremely important to keep it protected.
Some rings need to be re-plated every six months, while some only need it every six years. The necessary frequency of rhodium plating depends on two things:
 The thickness the rhodium plating

The ring's environment
Even though a rhodium plating promotes longevity and durability, you should always be aware that the shine from the rhodium plating might not last forever. Let Brinker's handle the re-plating so you can get back to planning your wedding!
Is White Gold Flexible?
The more pure gold that's present in the engagement ring, the less brittle and more flexible it will be.
A 24-karat white gold engagement ring (100% pure gold) is much more flexible than lower karat alternatives and doesn't have the potential for chipping.
Gold Purity Breakdown
Are you trying to figure out which karat amount is right for you or your partner?
Here's a helpful guide to understanding how gold purity is measured in jewelry:
The purity of gold is measured in Karats.
9 Karat: 9 of 24 parts are gold, which means the ring metal is 37.50% pure gold
10 Karat: 10 of 24 parts are gold, which means the ring metal is 41.70% pure gold
14 Karat: 14 of 24 parts are gold, which means the ring metal is 58.30% pure gold
18 Karat: 18 of 24 parts are gold, which means the ring metal is 75.00% pure gold
24 Karat: 24 of 24 parts are gold, which means the ring metal is 100% pure gold.
What happened to platinum engagement rings?
Platinum was initially the generally preferred white metal for engagement rings. However, this preference changed during World War II when most platinum was set aside for, and used by, the military. The jewelry industry took advantage of the affordability of white gold, and it revolutionized the market.
Although white gold isn't quite as hypoallergenic as platinum, it has remained the most popular engagement ring metal style since its emergence in the market.
Popular White Gold Engagement Styles:
While everyone has their own style or taste, these are some of our favorite white gold options that are currently in store.
Round Brilliant
The Round Brilliant cut is classically stylish. The standard round brilliant stone boasts 58 facets, which create all that extra sparkle you're craving.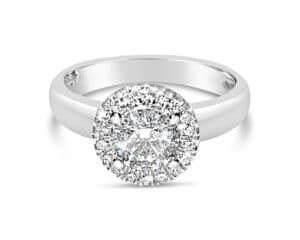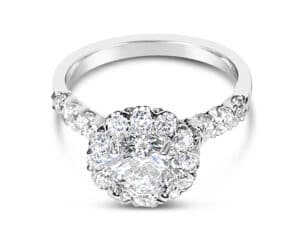 Cushion
The Cushion cut showcases a vintage look with soft corners and larger facets than most other cut styles.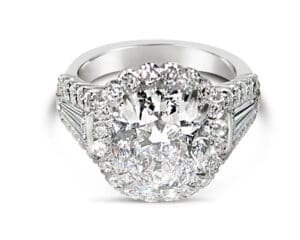 Heart
The Heart cut is a modified round cut or pear cut. While not the most popular cut style for an engagement ring, nothing says "I love you forever" like a heart-shaped diamond.
Oval
The Oval cut offers a symmetrical shape that generates a larger appearance than a round cut.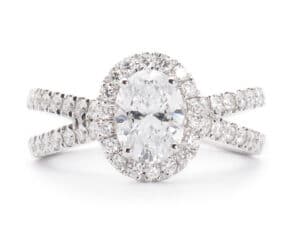 Custom
Brinker's Jewelers offers the highest-quality in-house custom ring design. Regardless of your style, our experienced staff can create the reflection of the love you share with your partner like no other jeweler.
No moment is more magical than the one where you finally get to say "yes!" It marks the start of your life-long journey with the person you love most. 

Whether you're proposing or receiving the proposal, choosing white gold for the engagement ring is a great way to add some glimmer to that glimpse in your future!