We Never Sell Products We Cannot Personally Service
Service is rooted in our foundation. Since the start of business in 1972, the heart of Brinker's Jewelers has been service. 3 generations later this remains our core. We will not sell products we can't service ourselves at our facility.
Caring For Your Jewelry Is The Responsibility Of Us, Your Knowledgeable Professional Jewelers
We treat every client's item as if it were our own. Jewelry doesn't have monetary value, it has sentimental value, something our 6 Master Jewelers take into consideration when making repairs. We're guided by a set of principles, and 150 years of jewelry repair and design experience, that allows us to keep this front of mind. We take pride in handling and repairing all pieces in an ethical and professional manner.
Whatever your budget, however large or small your collection, each piece of jewelry you own is bound with sentimental value. Your jewelry tells a story, keeps a memory alive, represents a milestone or personally represents class, style and character.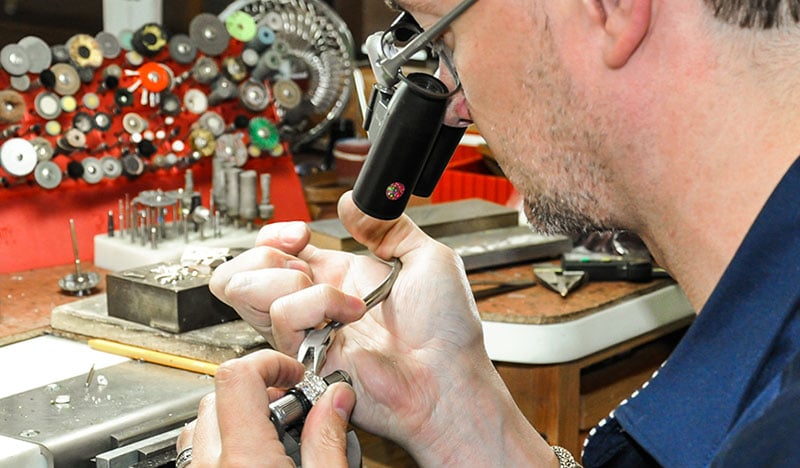 We offer a variety of jewelry and watch services including:
Complimentary cleanings
Ring sizing
Setting and tightening of diamonds and gemstones
Pearl restringing
Polishing and refinishing
Watch repair, battery and band replacement
Our Credentials
Brinker's Jewelers are graduates of renowned jewelry schools like the Gemological Institute of America, Stewart's International School for Jewelers and Swigart School of Jewelry, where they've garnered a deep understanding of cleaning and repairing your jewelry.
Jewelry Exposure
Regularly inspecting and caring for fine jewelry reduces the possibility of losing a stone or the entire piece of jewelry. Elements like light, heat, chemicals and other factors affect your jewelry and stones differently. We suggest regular cleaning to prolong your jewelry's original allure.
Basic Information
Your profession, tastes, habits, and the  frequency you intend on wearing your jewelry makes a difference. These factors help us guide you when choosing diamonds, settings, stones, and watches.
We Will Never Send Your Jewelry Away
Visit our showroom, call 812.476.0651, or fill out the form below and we will be happy to help you with any questions you may have.