By: Hailey Way
Make a statement with a nontraditional wide band engagement ring for a wow factor.
When you search for an engagement ring, it's best to start with the ring band. Finding the right material for your engagement ring will also factor into how wide you want your ring shank. Wide band engagement rings give you that additional design allowance to showcase a remarkable statement.
Consider your sense of style and your jewelry taste. Maybe you desire a thicker ring band for more design opportunities. With a wide band engagement ring you can add additional gemstones, texture, openwork motifs, and so much more. 
There are a few measurements to calculate when choosing the right ring width. Ring sizing is measured in millimeters (mm) so size differentiation is minuscule. Sort out your ring size, what attributes you want, and the varying widths for ring bands.  If you want to add additional gemstones too you may want to go with a wider ring band. 
Also, recognize your lifestyle when it comes to outfitting your engagement ring. If you have an active lifestyle or work with your hands frequently, you might want to contemplate a wide band. A thicker and broader band will endure wear over time and allows more protection for the center stone. 
Here are some of our favorite pieces that accentuate the uniqueness of wide bands with extraordinary design and imaginative details.
Contemporary wide bands for gold lovers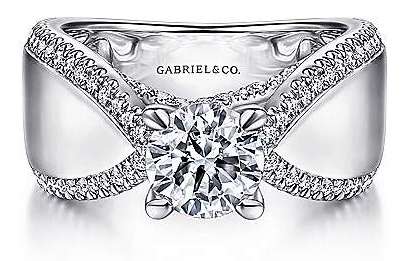 Consider a wide band engagement ring with a nontraditional shank. This 14K white gold ring features pavé diamond edges with a substantial band. The shank tapers into pointed angles at the head, presenting a round cut diamond.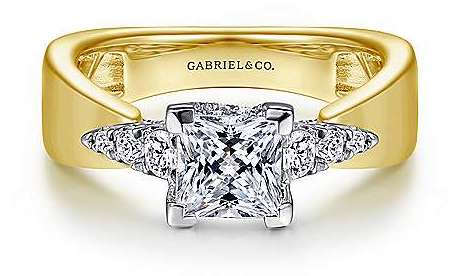 Take this lavish 14K yellow gold wide band ring that gradually transitions into a round diamond bridge that holds graduating diamond side stones.
Architectural and eclectic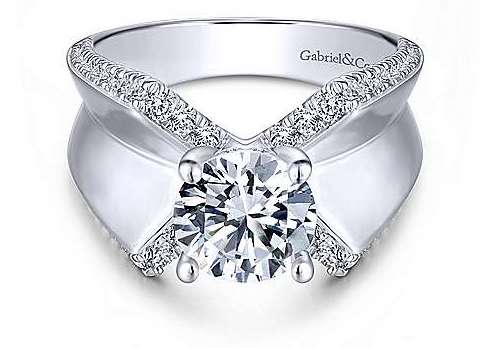 Find your nostalgic side with this retro round cut engagement ring. A broad shank of contoured 14K white gold gives depth to this ridged engagement ring. Its wide band is bedazzled with a pavé diamond lining.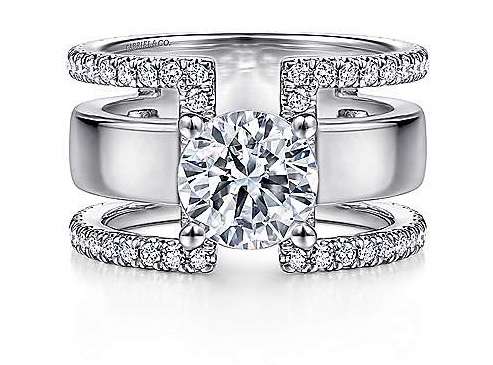 This striking engagement ring beholds a wide band with negative spaces. Parallel lines of polished 14K white gold feature cutout designs with rows of pavé diamonds and a round diamond center.
Luxurious, bold, and diamond forward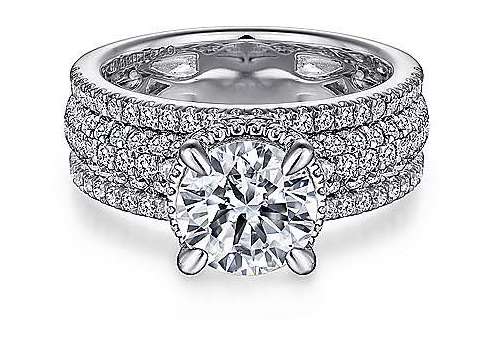 For a ritzy fashion statement, a wide band covered in diamonds must be the choice. Exquisite pavé diamonds cover the broad foundation of this round-cut engagement ring.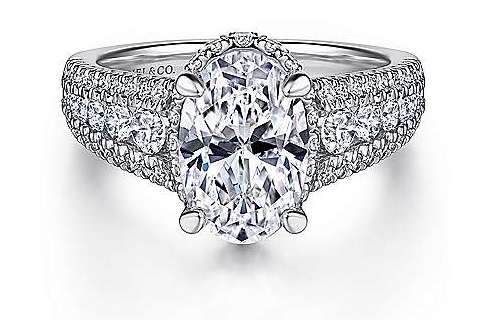 A glamorous statement, this 18K white gold engagement features graduating diamonds on a tapered wide band. A bold oval cut diamond center ties together this voluptuous ring.
Unique details and texture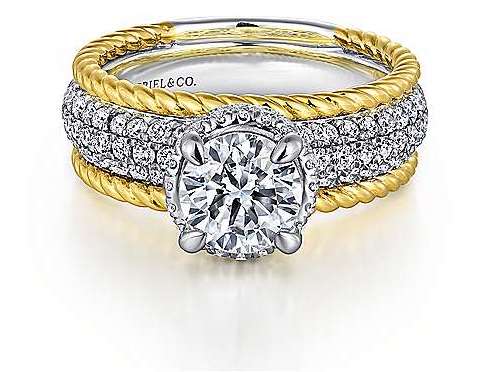 Another way to accentuate a wide band is with a beaded texture. A wide 14K white/yellow band is bedazzled with diamonds, encompassed by a Bujukan bead decoration.
Multi-row with delicate patterns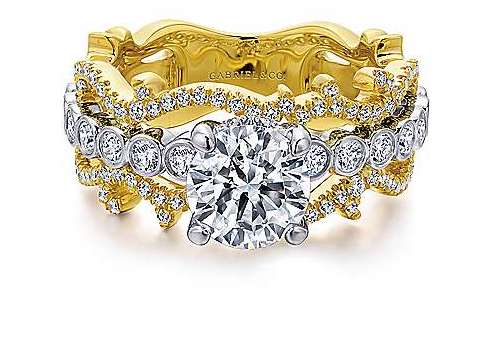 Wear a work of art with a multi-row wide band that features multiple design components. A middle strand of bezel-set diamonds is surrounded by two delicate, diamond encrusted 14K yellow gold rows.
The wider the ring band, the more opportunity for diamonds or other precious gemstones to shine. Two rows of bezel-set diamonds alternate with 14K yellow gold, ridged rows.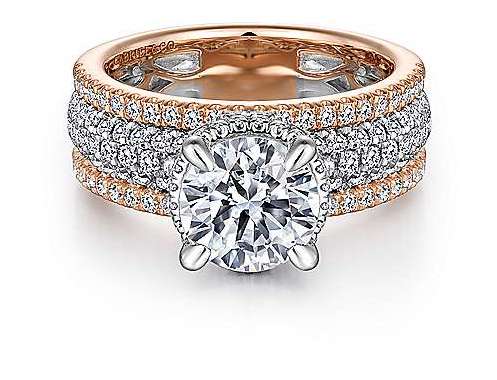 Make a radiant jewelry statement with a two-tonal wide band engagement ring. Blushing 14K white/rose gold features lavish diamonds and a round cut diamond center.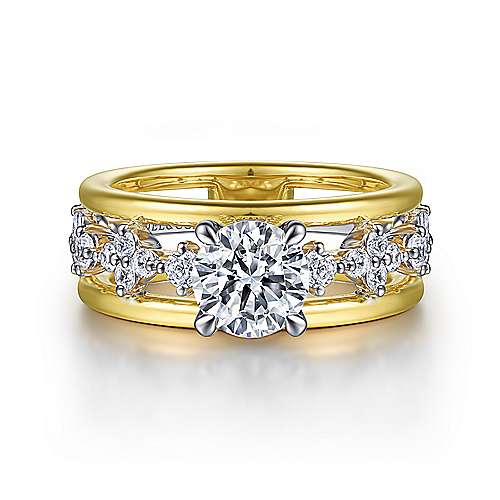 A complimentary combination can be found in this 14K white/yellow gold wide band engagement ring. It features a broad yellow gold foundation featuring openwork and diamond attributes.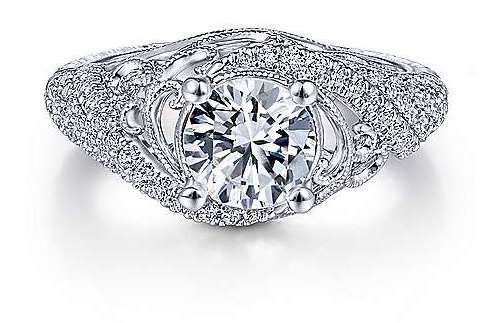 An extravagant showcase of diamonds and 14K white gold makes this vintage-inspired wide band engagement ring a standout. The base is delicate with swirling milgrain designs adorned with diamonds and filigree patterns.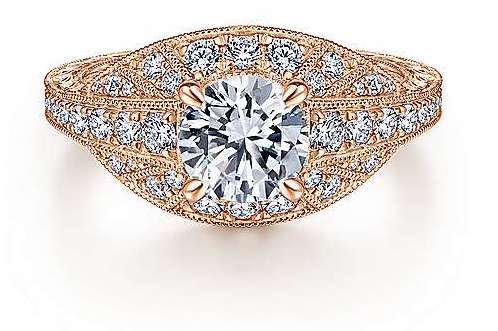 Turn back time with this14K rose gold engagement ring that showcases a vintage-inspired wide band. The lower shank is decorated with whimsical engravings, leading up to a wider gallery bejeweled with diamond accents.
Make a luxurious presentation with a bold wide and engagement ring. We have designs to fit varying personalities and lifestyles. Explore even more wide band engagement ring designs by searching Gabriel & Co.'s vast collection.