When it comes to a jewelry item or timepiece, you may eventually experience the need for a repair. General maintenance and repairs are necessary to ensure the longevity and quality of your items. While we have the largest repair facilities and most knowledgeable staff in the Tri-State, your item's repair time may take longer than you expected. Overwhelmingly the question we get asked the most is, "How long will my repair take?" This answer varies based on the nature of the what needs to be done to your item(s).
How Long Will My Jewelry Repair Take?
The time it takes to properly repair your item solely depends on the extensiveness of the damage/issue. When it comes to jewelry, you're looking at a minimum of 2 weeks for a proper repair. "Quick-fixes" like a Spa Day on wedding/engagement rings, buffing and polishing ring(s), soldering a jump ring, replacing a clasp on a necklace, watch battery replacement, or bracelet adjustment on a timepiece may be able to be done while you wait or within 1-7 business days. If you know your item may be in need of extensive repair or if you need something like having a stone reset, ring retipped, ring resizing, quartz maintenance on your timepiece, or complete service— it is best to come in for a free evaluation and consultation. We recommend visiting our showroom several weeks before you intend to wear, use, or gift your item!
A Spa Day is one of Brinker's Jewelers most popular services. When your ring is at the "Spa", our Master Jewelers will buff, polish, and clean your ring(s) to "like-new" condition. Afterwards, they will check the prongs and all stones to make sure everything is secure. If the ring is made of white gold, they will rhodium plate/ "re-dip" it for you as a part of the Spa Day service. Any engagement or wedding ring purchased at Brinker's Jewelers receives 1 FREE Spa Day a year! If your engagement/wedding ring wasn't purchased at Brinker's Jewelers, or your ring(s) needs an extra Spa Day throughout the year, we will provide that service for an additional fee.
Why It May Take Longer Than Expected/ How Do We Determine Repair Wait Times?
Demand for repairs used to vary and repair due dates used to be between 7 and 10 days. Today, we are seeing an increase in jewelry and watch repairs because of two main factors:
Our on-site repair and design facility in Evansville has 10 jewelers with over 200 years of combined experience. Plus, we are the only Official Rolex Plaque Service Center in the Tri-State area.
Along with repairing our own customer's items, we also repair items from other jewelry stores that don't service the jewelry or watches they sell to their customers.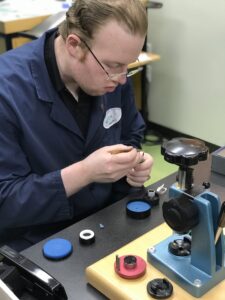 When evaluating your item, our repair service coordinators will take into account the nature of the item, its condition, the time involved for repair or service, and whether or not the item was purchased at Brinker's Jewelers. Along with that assessment, they have to evaluate the number of repairs in the shop at that time and how long your item(s) will take to be repaired. When it comes to repairs, everything is on a first come first serve basis unless you purchased your item(s) from Brinker's Jewelers. Those item's receive priority and are moved to the front of the service line. Jewelry repair typically takes 2 weeks if the item(s) were purchased from Brinker's Jewelers. However, if your item(s) were not purchased at Brinker's Jewelers your repair will typically take 3-4 weeks. When it comes to full-service watch repairs, those typically take 4-6 weeks to complete. For those of you that have unexpected jewelry repairs and need your item(s) serviced in less than 2 weeks, we have a service to accommodate your needs for an additional fee.
The reason why we don't rush service jobs is because it's not about how fast we can turn it around; it's about meeting our standards on quality and craftmanship. We want it repaired correctly the first time, if it's quicker than expected, that's a bonus!
Bring your item in to be evaluated.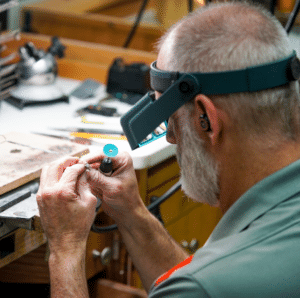 It's important to note that our Jewelry and Watch Professionals will need to see the item in person to determine a specific price and a turnaround time. Calling to inquire about service times and price estimates will still result in you having to bring the item in to our showroom(s). We recommend calling or texting the store to schedule a time for an evaluation, or you can walk in during normal business hours.
Please be aware of busier times of the year.
 If at all possible, try not to wait until the last minute to get a repair completed!
Be prepared for longer repair wait times during the holidays and the changing of the seasons. Our repair centers see significant increases in the amount of repairs during these times of year because this is when consumers travel the most, have holiday parties, family gatherings, and/or when they're most focused on their jewelry. Our Jewelry and Watch Professionals shared the following:  The summer's most popular services are repairs on bracelets, chains, ring resizing, and watch strap replacements. When the weather warms up, many discover that their favorite bracelets and necklaces they put away for the winter may need some TLC before wearing them for the season. Likewise, in order to prevent any leather watch strap damage due to sweat, many people will switch out their leather strap for a rubber strap or metal bracelet until it cools down. When the weather gets cooler and the sweaters come out, rings can easily get snagged on your favorite fall garment. Therefore, our ring re-tipping service is very popular in the fall! When it comes to full service watch repairs in the fall and near the holidays typically those repairs take 6 weeks (+). Finally, our repair centers are very busy making adjustments to holiday purchases.
Repair may not be the best option.
Our Jewelry and Watch Professionals will always be upfront with you and present you with all of the available options for repair. As skilled, savvy, and dedicated as our team is at repairing your jewelry and timepieces, unfortunately not everything can be fixed, or the repair and time involved may be more costly than purchasing a new item. That is a reality that you may need to consider unless the item has extreme sentimental value.
Communicate with Brinker's Jewelers!
Brinker's Jewelers makes communication easier than ever! Did you know our landline phone number is text-able? We encourage you to utilize this and trust that we will notify/text you with answers to your questions or when your item is ready. We are here 24/7/365 to answer questions and give you updates when you need them.
Now you have the inside scoop, contact us or visit our showroom(s) and let us help you with your next repair!