Congratulations! You've found the dream partner and the dream ring. You've planned or experienced a beautiful proposal and committed to taking that next step together. With so many wedding decisions still ahead, take advantage of this wedding jewelry checklist to make sure you sparkle as intended on the big day.
This timeline includes all the jewelry-related actions you should take before, during, and after your ceremony and celebration. Then you can rest easy in the knowledge that you've avoided any possible snags — both literal and metaphorical — with wedding jewelry.
After all, first comes love. Then comes planning. Then comes marriage.
After the Proposal
At this stage, you want to get ready for the long road ahead and make sure your engagement ring is secure for the journey.
Make a Master Wedding Checklist
Wedding jewelry certainly isn't the only thing on your agenda. You need a master wedding timeline into which you can incorporate this checklist.
Know when to send save-the-dates and invitations, when to lock down vendors, and when to have your final fittings. Good organization will minimize your wedding stress.
(Re)Size the Engagement Ring
You may have taken all the necessary steps to determine her ring size, but there are factors and fluctuations for which you couldn't account. These include everything from the weather and time of day to diet and medications. Visit the jeweler with your fiancée to have the ring resized for the perfect fit.
Don't delay. You don't want to risk losing a too-large ring or getting stuck in one that is too small.
9 to 12 Months Before the Wedding
The wedding is still almost a year away, but that time will go quickly. Here's how to stay on track.
Add a Budget to Your Wedding Jewelry Timeline
In addition to a schedule, every element of the wedding requires a budget. Just as you set a sensible engagement ring budget, be practical and thorough with your wedding finances. Don't risk overspending in one area in a way that will compromise another.
Your wedding bands and wedding day jewelry are essentials, so you'll naturally provide for them first. But don't forget about the family and friends you want to honor as the day approaches.
Find Presents to Complement Your Wedding Party Proposals
Speaking of those special guests, it's time to ask your closest friends and family to take part in your wedding. Give them plenty of time to plan for the time and costs of all necessary travel and wedding-adjacent events.
A proposal gift shows your appreciation of the work ahead for them. A pair of rose gold bead stud earrings make a lovely bridesmaid proposal gift. Any groomsman would be thrilled to receive a slim digital watch that doubles as an attractive outdoors tool.
8 to 9 Months Before the Wedding
Complete the wedding ensembles with the finishing touches. Both the bride and the groom should look and feel their best.
Shop for the Bride's Wedding Day Jewelry
First decide on your dress, veil (if you want one), and hairstyle. The cut and neckline of your wedding dress will lend themselves to certain jewelry styles. But have your wedding jewelry present for final fittings and alterations so you can be sure that everything works together.
A long statement necklace or drop necklace complete a gown with a low-cut front or back. Women going for a classic bridal look can never go wrong with a strand of pearls or a diamond and pearl bracelet.
Your hairstyle and veil will determine the type of earrings that look best. If you're wearing your hair up, seize the opportunity to show off some statement earrings. A sleek updo with dramatic earrings creates a chic look for your wedding photos to preserve. Try a pair of curved climber earrings or some gorgeous dangle earrings to frame your face and heighten your elegance.
You can make your wedding jewelry your "something blue" with a sapphire piece such as a sapphire pendant with a double halo of diamonds. Or be utterly regal with diamond and sapphire earrings.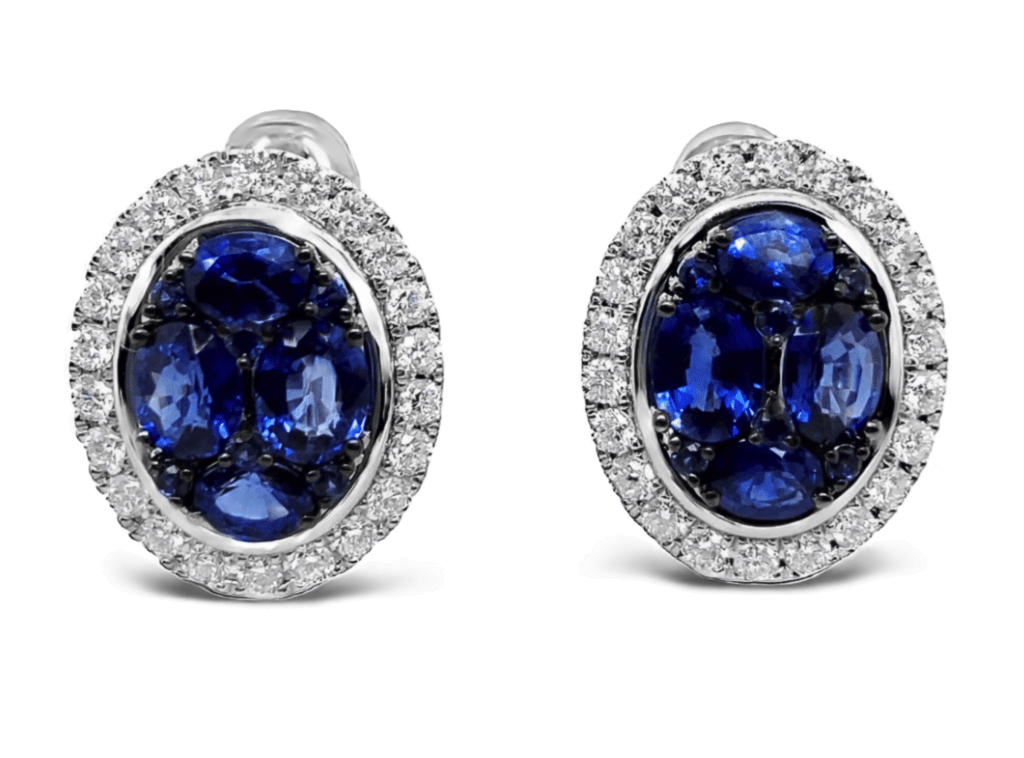 These sapphire and diamond oval halo earrings in 14K white gold will make your guests catch their breath — and scramble for the bouquet. Women will clamor to be next when you set such a stunning example.

Shop for the Groom's Wedding Day Jewelry and Accessories
The groom shines, too. The right accessories will make your suit or tuxedo pop and help you meet the standard set by your glowing bride. Go modern with fashionable jewelry or classic with personalized cuffs or a new watch.
Is your band all the wedding jewelry you desire? Consider dressing up your suit with a new belt or other piece to complete your look.
5 to 6 Months Before the Wedding
Show your mothers how much you love and respect them when the big day comes around. After all, they're responsible for getting you much of the way here.
Select Gifts for the Mothers of the Bride and Groom
Pins and pendants are popular gifts for the mother of the bride and mother of the groom. If you intend your gift to be worn as wedding jewelry, make sure it fits with her outfit for the wedding day or rehearsal dinner.
To add an extra-special personal touch, have something engraved. This way, your mother can keep it — and you — close at all times.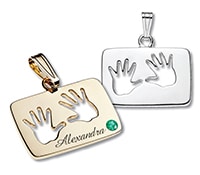 Remind your mother of the place she holds in your heart with customizable Love Prints™.

3 to 4 Months Before the Wedding
You're not done picking out your wedding jewelry just yet.
Purchase Your Wedding Bands
Choose and purchase your wedding bands at least eight to 12 weeks before the day. If your wedding is near a holiday, give yourself a little extra time as jewelry turnaround will be longer. Remember that you need time to have the bands properly sized to your hands after receiving them.
If you love the idea of custom wedding bands, start talking to a jeweler 12 to 16 weeks ahead of time. You'll need to discuss ideas, decide on a plan, and then wait while they're made to order.
Not accustomed to wearing rings or unsure about what you want? Acquaint yourselves with popular wedding band styles for men as well as women.
2 Months Before the Wedding
It's getting close! You'll want to finish up your wedding jewelry and gift shopping a couple of months before the wedding.
Purchase Wedding Gifts for Each Other
You've made it this far through the wedding-planning mayhem together. Wedding gifts are an opportunity to demonstrate your mutual appreciation and love.
The Bride
For the bride, a beautiful piece of fashion jewelry that she can wear every day or a pendant with special meaning makes a fantastic present. You can even have a pair of hoop earrings custom-made to match her wedding ring.
Another idea is to send a message through gemstones. Consider a pendant or bracelet that features her birthstone, both of your birthstones, or the stone that represents the month of your union. Or say "I love you" with rubies, which symbolize passion and vitality.
You know your wife-to-be's tastes better than anyone, so don't be afraid to veer away from jewelry gifts. Appeal to her hobbies with a nice paring knife if she loves to cook, or another item she will use often in the years ahead.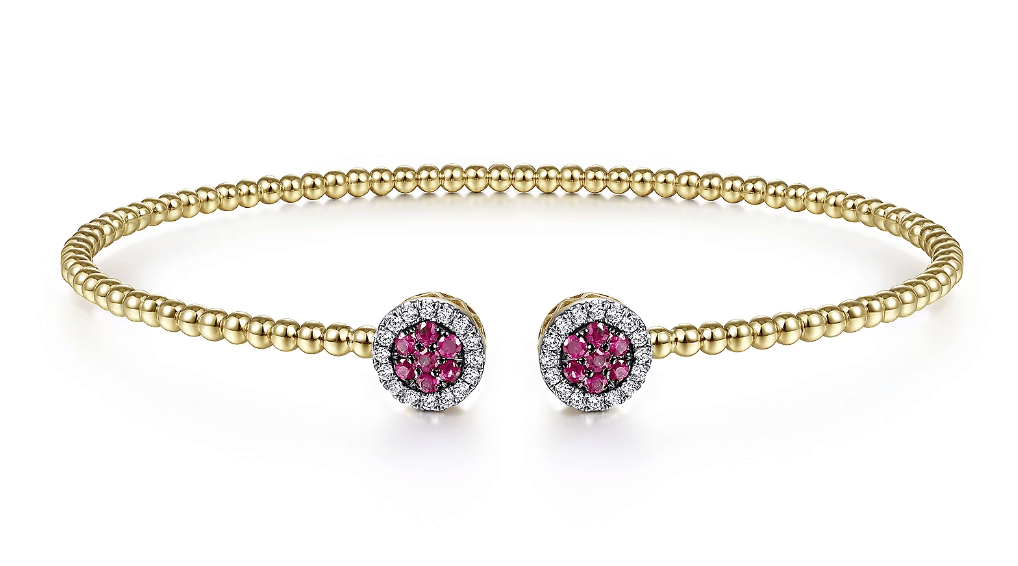 The 14K Yellow-Gold Bujukan Cuff Bracelet with Ruby Diamond Halo Caps combines elegance with fire and would make a wonderful gift for your bride.

The Groom
When it's time to shop for him, you can never go wrong with gifts that unite form and function. Consider travel gear for the honeymoon or a wallet customized with his initials.
You might make writing thank-you notes a little more fun with a quality writing instrument. You can even have it engraved with a personal message.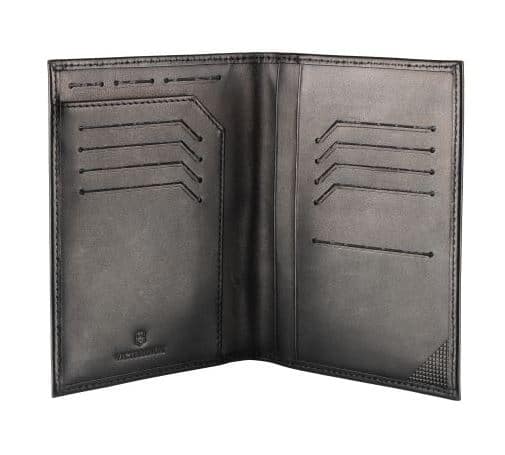 The sleek and sophisticated Wallet Altius Edge Leibnitz Bi-fold makes a lovely gift.

Plan Out Wedding Party Jewelry and Gifts
Bridesmaids and groomsmen deserve recognition for all of their support through this process. Make showing your gratitude a priority.
The Bridesmaids
For bridesmaids consider initial necklaces, which are inherently personalized and go with almost everything. If you're buying their wedding jewelry, look for something they can wear both with their dresses and for more casual occasions in the future. Something like a pair of understated gold hoop earrings is perfect.
Want to do something extra for the maid of honor? Why not honor her with a piece of peridot jewelry? It's the stone of friendship. A peridot bracelet or ring pays tribute to the years of support both behind and ahead of you.

These 14K Yellow Gold Twisted Hoop Earrings are both versatile and timeless.

The Groomsmen
Have fun shopping for the groomsmen. You have many exciting gift options. A few classics are:
Or get them the latest in high-quality utility tools — a Swiss card with LED light that they can tuck in their wallets.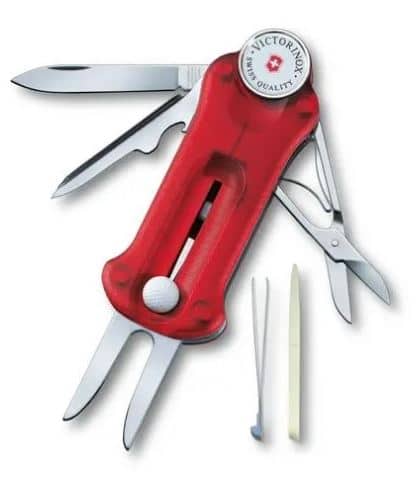 Do you love to golf with the guys? Honor that pastime with the Sport Tool with 10 Functions for Golfers.

Week of the Wedding
Take several deep breaths. Inevitably, you'll have to contend with a few minor last-minute hiccups. Just relax and make sure to put ring-cleaning on your calendar.
Have Your Wedding Rings Cleaned
You should have your rings cleaned about three to four days before the wedding. For example, if your wedding is on a Saturday, drop them off on Monday or Tuesday and pick them up on Thursday.
Then comes the hard part. Keep them safely stored until the day of the wedding so they're picture-perfect for photos. Truly can't stand not wearing them? Purchase a bottle of jewelry cleaner so that you can give the rings a last-minute scrubbing the night before.
Night Before the Wedding
You're starting to hear the wedding march in your dreams, but before you nod off . . .
Lay Out Your Wedding Jewelry
Set out your wedding jewelry so you don't forget it during tomorrow's chaos. You can also take the opportunity to go over pieces closely, and give them a quick cleaning if necessary.
Then wrap up each piece in cloth that won't snag. Doing so will keep your jewelry pristine and prevent any chains from getting tangled. Save yourself some time tomorrow and prevent the headache of trying to disentwine the pieces.
Day of the Wedding
Congratulations! It's the big day at last. You may have numerous responsibilities but don't forget to enjoy yourselves.
Put On Your Jewelry Last
Why risk jewelry-related mishaps? By putting on jewelry last, you ensure that it stays clean and doesn't break or get lost during wedding preparations.
You also ensure that your beautiful (and expensive) dress and veil don't snag on your wedding jewelry while you dress. So few things in life are perfect, but your wedding outfit can be.
After the Wedding Day
You've made it. The wedding went off without a hitch, and you didn't forget the rings or any other piece of wedding jewelry. The exhaustion is starting to set in, so just read over these tips as you put your feet up. You've earned it.
Take Your Jewelry in for Regular Cleanings and Scheduled Maintenance
Regular cleanings and scheduled maintenance ensure that your rings and other wedding jewelry stay as beautiful as they were when you got them. Bring them in once or twice a year at least. If they start to look dingy, schedule more frequent cleanings.
If your jewelry needs to be repaired, have it serviced by the original jeweler to ensure that it looks the same afterward.
Start Planning the Perfect First Anniversary Gift
Don't get caught unprepared when that special day comes around again. It's unwise to forget your anniversary and the first one is particularly special.
Some couples like to honor the occasion with a classic anniversary band. Others opt for classic gold gifts for the first year. A lovely necklace, pair of earrings, or bracelet will remind your wife of that special wedding day.
You Can Always Rely on Brinker's Jewelers
At Brinker's, we love romance and offer multiple wedding pieces and services. We're here for all your jewelry needs — from the engagement to the wedding to the gifts that mark special moments in your unfolding life together. You can even have any jewelry gift personalized with our machine or hand-engraving services.
Have a question about wedding jewelry, bridal party gifts, or anything sparkly? Contact Brinker's Jewelers today. Our knowledgeable staff is ready to answer all of your questions.