Watches are about stories. They play silent witness to our adventures, accompanying us through life's ups and downs. They are our reliable, mechanical companions. Not surprisingly, stories also fuel our passion for watches, and guide our decisions about which ones are right for us.
With a founding mission to prove vibrant manufacturing is still viable here in America's heartland, few watchmakers understand the importance of a good story like Shinola. Headquartered in Detroit's historic Argonaut building, a repurposed General Motors research facility, Shinola (pronounced shy-nola) has been retraining local laborers to hand-assemble their watch movements since 2011.
Since unveiling their first watch, the Runwell, Shinola's product catalog has diversified greatly, their company and its skill set have expanded, and Detroit has reaped the benefits. In recent years, they've even pushed beyond watchmaking by partnering with other domestic manufacturers to offer American-made apparel, audio, and lifestyle products that run the gamut from hand-made kitchen knives to bicycles and vinyl record players.
The one thing that doesn't seem to change, though, is Shinola's commitment to tying each and every model they produce to a good story. And today we're going to examine three models that have that special x-factor in spades: the Runwell, Cass, and Canfield.
Let's start at the beginning.
41mm Runwell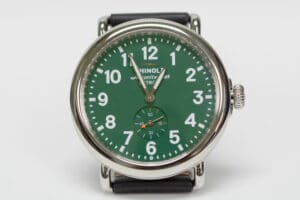 A classic Shinola watch, and one of their earliest models, the 41mm Runwell is clean, bold, and utilitarian — a succinct modern American design. This particular version of the Runwell sports a green face and is loaded with luminous (a glow-in-the dark pigment on the hands and hour-markers) for low-light legibility. You might notice there isn't a large second-hand to accompany the hour and minute; but situated squarely above the 6 is a subdued, sweeping second-hand subdial with orange accents.
Powered by Shinola's Argonite 1069 movement, named for the Argonaut building, the Runwell is meant to … you guessed it, 'run well' and presumably age well, too.The case is a high-polish stainless steel, which is important for longevity on the wrist. The synthetic sapphire crystal is extremely scratch-resistant, and the screw-down onion crown offers stylish usability.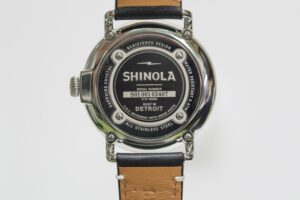 As you flip the watch over, the laser-etched nameplate is immediately reminiscent of automobile manufacturing, an intentional nod to Shinola's deep connection with the fabled "Motor City".
Also of note is the Runwell's high-quality leather strap. Stitched here in the U.S., these remarkable straps are a product of Shinola's partnership with Chicago's Horween Leather Co. Interestingly, in order to bring more of their manufacturing process to Detroit, Shinola has spent the last two years building their own leatherworks facility in-house.
28 mm Cass Limited Edition 'Maya Angelou'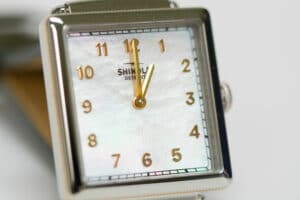 This particular Cass model, the 'Maya Angelou' is part of Shinola's Great Americans Series – limited runs of watches designed to 'honor iconic American innovators and industrial pioneers' – and features the late poet's signature on the back nameplate.
Though petite, at only 28 mm, this square-cased women's watch is not easily overlooked. True to Shinola's signature bold stylings, the high-polish stainless steel case with mother of pearl face is eye-catching and sophisticated. Featuring a slightly different quartz movement from the Runwell series (the Argonite 1062.2), and a smaller onion crown, this Limited Edition Cass 'Maya Angelou' is one of only 500 Shinola will ever produce.
Standard models are available in a number of face materials and case finishes, including rose gold.
43 mm Canfield Limited Edition 'Cannonball'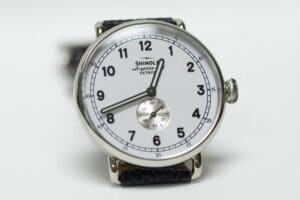 Designed to pay homage to the pocket watches used by railroad workers in the early 1900's, this limited edition Shinola Canfield 'Cannonball' is similar to the 41mm Runwell, with some choice aesthetic differences. For one, note the changes in hand-shape and dial configuration. The 'Cannonball' also features a train-track chapter ring around its easy-to-read white face.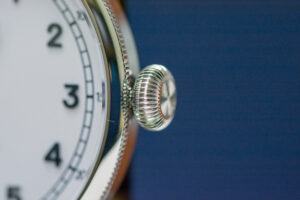 The onion crown, which is not screw-down, has some tight, precision-machined knurling making it very easy to grip while setting the watch. Powered by the same Detroit-assembled Argonite 1069 Quartz movement as the Runwell, the Canfield also has a handy hacking movement, which allows you to set the time by the second.
The 20mm leather strap on the Cannonball is another example of Horween Leather Co.'s expertise. It is a dark navy pebble finish, reminiscent of a brand-new football.
Are Shinola Watches Right for You?
That depends. Shinola, like all watch brands, isn't for everyone. But what they have always excelled at is creating striking, dependable watches that require very little maintenance and are backed by one of the industry's best lifetime (or longer) warranties.
Shinola is a company that's all about America, and owning one of their watches is a real point of pride for most — because their timepieces represent something bigger than the whole sum of their parts: the idea that the story of American manufacturing isn't over just yet.
We stock a number of Shinola watches and leather products at Brinker's jewelers, including the limited edition models discussed here. Visit us anytime to try one on.