The History of Victorinox
The Swiss are universally known for style and precision when it comes to their designs, but did you know Victorinox Swiss Army has been a family-owned company since their inception in 1884?
With the support of his mother, Karl Elsener opened a knife cutler's workshop in Ibach-Schwyz during that year. Seven years later, Karl established the Association of Swiss Master Cutlers. This led to delivering the first major supply of soldier's knives to the official Swiss Army. From there, the original Swiss Officer's and Sports Knife was patented and is universally known today as the "Swiss Army Knife."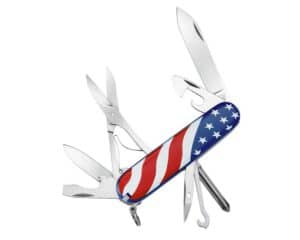 Origin of the Victorinox Name
Family and Swiss history are a vital part of the company's marketing.
The name "Victorinox" comes from two places, still rooted in family and history:
Victoria, after the founder's mother, became the brand name and is identified by the logo with the cross and shield. This branding is registered and trademarked in over 120 countries.
In 1921, the world paid witness to the invention of stainless steel which was officially called Inox.
Alas, Victorinox.
The Swiss Difference – a World Different
What began as a collection of pocket tools and professional grade knives has evolved into a lifestyle brand of tools and products developed for business and leisure – improving and enhancing the lives of amateurs and professionals alike.
Today, every single pocket tool is made in Ibach-Schwyz, Switzerland – just as they were originally produced. One hundred thousand pieces are made per day, the company has never laid off a single person, and it isn't uncommon for the makers of these high-quality, affordable and luxurious lifestyle products to have been employed by Victorinox for decades.
While flagship boutiques like the one you'll find inside Brinker's Jewelers are popular across the pond, Brinker's Jewelers is the trailblazer for creating this unique shopping experience amongst jewelry companies.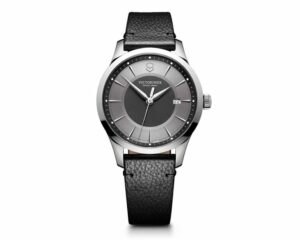 Discover the Difference
Consider products you might frequently use (and even take for granted): a wristwatch or timepiece, cutlery and kitchen knives, pocket knives, backpacks, and luggage.
These are the types of lifestyle products everyone wants to last a long time. Some of us might even use a combination of them daily. Because we use them so frequently, they've become an integral part of our lives. It's easy to take them for granted. One thing is for sure: these are the products we want to withstand the test of time – a business or cross-country trip, a camping trip, or even a casual night at home with the family.
Victorinox has earned a reputation for standing the test, but it doesn't stop there. Timepieces, cutlery, luggage – every product created is vigorously tested. Exposed to extreme temperatures and water immersion. Dropped, shaken, tossed around (yes, even the knives), beaten up and "abused."
Still, the durability and precision that go into the Victorinox brand aren't enough. Quality is well thought out in all textiles and materials. Features such as waterproof zippers are integrated into pieces to enhance and encourage adventure. When you check a bag at an airport or store a piece of luggage in an overhead bin, you know the contents of your baggage is secure inside if it's a Victorinox piece.
Finally, every single one of these details are considered, built-in, tested to endure. Every piece displays incomparable quality – and is priced to make that level of quality within reach financially.
Skeptical? Intrigued? Inspired?
We thought you might be. Visit the Brinker's Jewelers Showroom to experience the Victorinox difference, and test many of these products yourself. Your everyday routine will thank you in the long run.