Time Change
By Brinker's Jewelers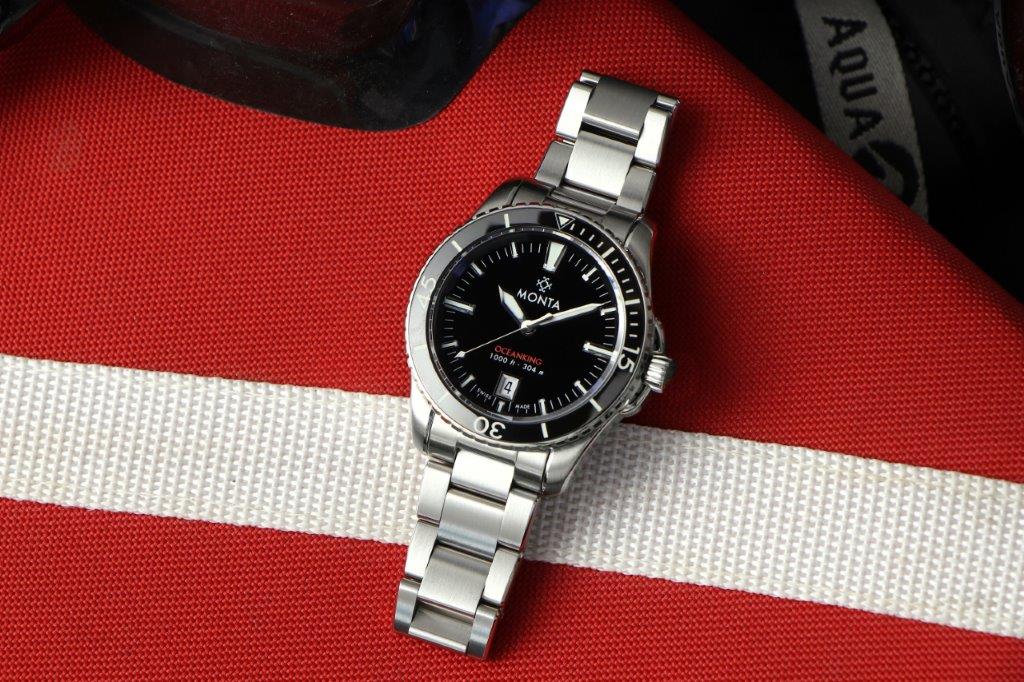 The Inspiration Behind MONTA
Established in 2015, MONTA WATCH is an American-based company (St. Louis, MO) manufacturing luxury sport watches in Switzerland.  MONTA was founded by Michael DiMartini, Justin Kraudel, and David Barnes, three passionate watch enthusiasts who focus on quality and design with the goal of exceeding any expectation. They also aim to provide a deeper connection to the brand for customers by staying engaged via social media and collector events around the world.
They introduced their first model, the Oceanking diver, at Baselworld in 2017.  They have since added three more models to round out the collection: a field watch called Triumph, a GMT called Skyquest, and a travelers watch called Atlas.  What started as an online-only model has grown significantly and Brinker's Jewelers is proud to be the first authorized retailer of MONTA.
The inspiration behind MONTA WATCH comes from the classic design of tool watches from the 1950's and 1960's.  Taking cues from the style of this timeless era, they have carried several aspects throughout their line: alternating polished and brushed case finishing, chamfers on the inner and outer lugs, applied markers and date window, and fully articulating bracelet links.  MONTA also offers a customized approach to finding the perfect timepiece by allowing owners to choose various dial colors, bezel materials, and strap/bracelet options.
Not content to have only a beautiful watch, the designers behind MONTA go above and beyond to ensure every step of the watchmaking process is scrutinized for quality control, from the initial drawings to the final delivery of the watch to the customer.  When it comes to precision and refinement of modern technology, MONTA only works with the best.   For example, the MONTA hands are all diamond-cut, beveled, and made of rhodium.  This expertise is only available from a select few Swiss manufacturers.
The team behind MONTA is also responsible for the very popular Everest Bands.  Their Swiss-made rubber and leather straps are found worldwide in over 260 retail locations and on the wrists of watch aficionados everywhere.  MONTA owners benefit from the expert technology of the Everest curved-end straps that fit perfectly to the case of the watch providing a flawless fit.  The passion for watches amongst the owners of both brands has been taken to new heights over the last decade.
Come in today and see what the excitement is all about.
ORIS Clean Ocean Project
It takes true confidence to become a trailblazer, and it's clear that ORIS has it.
Through the "Ocean Project," an environmental awareness initiative, they've introduced more sustainable materials into their watch manufacturing process. The decision to do so is making waves throughout the watch community.
Each of the 2,000 new Oris Aquis diver's watches is constructed with recycled plastic to raise awareness of the fact that the improper disposal of plastics is detrimental to the environment as a whole.
Each of the 2,000 pieces created carries a unique medal made of recycled plastic inserted into the case back.
Along with the watch updates, Oris will also be revamping their box program. The new options feature less packaging and dual-purpose designs that are able to serve as travel cases. Developed by an independent company in Holstein, Switzerland, this will be another factor in Oris making a major step toward a green future.
The Upcoming Oris-Sponsored Dinner Event:
Come Join Us For Dinner!
Brinker's Jewelers is hosting a dinner sponsored by Oris watch. We will be joined by Jason LeMaistre of Oris. He will be showing us a brand new, never before seen watch!
Enjoy an evening of good food and spend some time with other people that share a similar passion for fine timepieces.
This is an RSVP-only event. Please email me directly at dpowell@brinkersjewelers.com to confirm your attendance.
Don't wait, these small events tend to fill up quickly.
When:
Wednesday, September 11th at 6:30 PM
Where:
Pangea Kitchen
111 S Green River Rd, Evansville, IN 47715
People Who Make It Happen:
Rob Chilton of Victorinox
Rob Chilton has over 30 years of watch selling experience, beginning at Pulsar in NYC.  This Wisconsin native learned the power of connection by challenging himself to strike up conversations on the subway and streets of his new city. After a few awkward moments, Rob learned that no matter the town, there are good people everywhere- and this is the key that has opened the door to his success.
After his extensive involvement in big Japanese watch brands and Swiss groups, Rob realized his passion lived in Victorinox Swiss Army, a company still owned and run by the same family, founded by Karl Elsener 135 years ago- a rarity in any business.  Their influence on Rob has made him feel like a part of their family. "I guess that's a big reason why I enjoy Brinker's. We have worked together across decades and brands. I am always greeted with a smile and a kind word and have become friends with the Brinker family, the people that work there and even some of their customers."
When Rob isn't immersing himself in Victorinox's innovations, his focus is on his own beautiful family- his wife of twenty-three years, Deanna, their daughters Halle and Hannah, and several animals.
Special note from Dean:
Rob is a trusted friend. I have learned so much about this industry from him. His extroverted, fun attitude is infectious and it is not possible to be down when he is around.
Watch Maintenance & Care
By Logan Everly
Keeping your case and bracelet clean will add longevity to the life of your watch, especially your bracelet.
Certain everyday products can wreak havoc on your bracelet's overall quality of life.  Sunscreen, lotions and perfumes will coat your bracelet.
Once on your bracelet, these items will attract dirt and debris like a magnet.  After the dirt gets inside or in between each link and pin, they will grind on one another, slowly grinding themselves away. Creating what we call "bracelet stretch". This ultimately leads to bracelet failure.
One would think that showering in your watch would help keep it clean; wrong answer.  Soap residue acts the same as lotion or perfume – the ultimate destroyers of your bracelet!
Honorable mention in the war on your bracelet:
Many wouldn't believe, but your own skin oil collects dirt and debris on your bracelet as well. So, even if you don't wear lotion, sunscreen, perfume and even if you don't shower; your bracelet is still at risk.
PLEASE do not be worried about wearing your wonderful timepieces after reading this section.  We are merely keeping you informed on the proper cleaning etiquette for stainless and/or gold bracelets.
Information is power. 
Understanding the benefits of a clean bracelet helps longevity and prevents early failure.
Stop by at your convenience for a free pressure check and external cleaning of your timepiece – start the fight against early onset destruction now!
Enjoy this short video of how the watchmakers properly handle and clean a timepiece.