Are you looking for a gift that conveys the uniqueness and special qualities of the one you love?
Maybe you're looking for that statement piece that separates you from the crowd and speaks without you even saying a word.
Regardless of the reason, every stitch of L.E.N. Lifestyle belts is as unique as you, with details pouring out of every inch of the genuine leather creations.

Brinker's Jewelers and L.E.N.
Brinker's is proud to announce that we are carrying L.E.N. Lifestyle belts in a variety of materials and styles. Fashion should be fun and enjoyable, and much like our jewelry collection, this brand radiates style and elegance with incredible attention to detail.

What is L.E.N.?
 L.E.N. was created by Ron Noelting in honor of his father, Larry Ervin Noelting.  Ron held his father in the highest regard, as he was the one who endowed him with his love for the clothing industry.
From this, the initials and brand name L.E.N. were derived, and Ron set out to make his father proud by showing others the fun and enjoyment that is possible by simply getting dressed.
Using exceptional fabrics and the highest quality leather, L.E.N.'s mission is to create products that emit classic style with modern sensibility. The brand mantra is to craft items "that you don't have to wear, but items you want to wear."
Those unfamiliar with the brand or the quality of genuine leather accessories may be unfamiliar with the distinct details that make them unique. We're detailing a couple of L.E.N.'s popular leathers and what sets them apart.

Caiman Crocodile
The caiman crocodile hide is drastically different than that of the American alligator. The distinctive calcium rivets embedded within the scales of the caiman make it harder to work with. Therefore, it's difficult to craft this material into clothing and accessories.
However, L.E.N. has mastered this material, creating a variety of smooth, classic designs sure to stand out. Here are a few of our favorites carried in-store: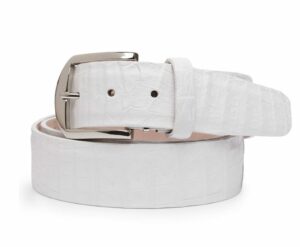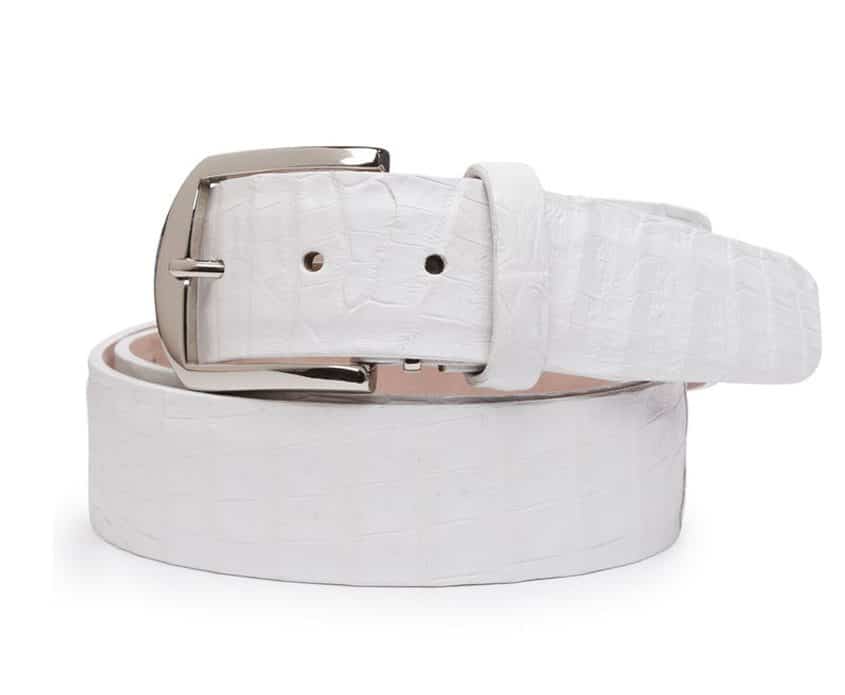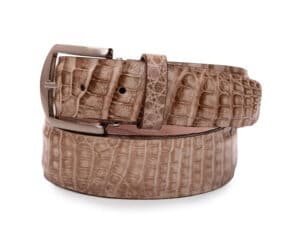 Ostrich Belts
L.E.N. carries both ostrich and ostrich leg accessories in a variety of sophisticated colors and styles.
But, why choose ostrich leather?
Due to its flightless nature, ostrich skin is tougher than the average bird, making it durable and long-lasting. However, while tough and strong throughout construction, the material is pliable and able to be manipulated into a supple end result with impeccable shine and luster. Not to mention, the unique and eye-catching pattern alone is enough to attract fashion lovers at one glance.
Not quite sold? Check out some of the options we have in store now: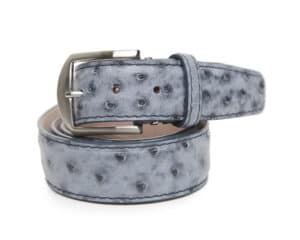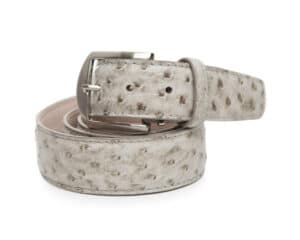 In-Store Custom Fitting
You might be thinking, "How do I know if they have my size?"
No need to worry. We offer options for every size and have the ability to custom fit the belt to your specifications upon purchase.
That's right! Not only will you have an interesting, conversational fashion piece unique to you, but it'll also be tailored just for you by one of our sales associates.
Sounds pretty great, right?
Visit the L.E.N. Lifestyle Collection page to see more unique selections like the ones below available at Brinker's Jewelers.