Baselworld is the largest watch and jewelry show in the world. With over one-half million square feet of show space and three thousand journalists from around the world, Baselworld is no small feat.
Over the course of six days, thousands of people travel to Messe Basel, Switzerland, aka the mecca of watches, to experience Baselworld and all the show has to offer.
To those who are unfamiliar, Baselworld can be best described as the fashion week of the watch and jewelry world. Celebrities, collectors, enthusiasts, watchmakers, designers and connoisseurs alike, all gather to see the latest and greatest of what is to come in watch and jewelry fashion.
This year, Brinker's Jewelers was pleased to have two members of our elite watch department attend Baselworld. Manager and Watchmaker, Dean Powell says, "We try to attend every year, it gives us the opportunity to have face time with the manufacturers and learn more about the products we sell in the store."
Attending Baselworld is an opportunity for Dean and his colleagues to distinguish themselves from their competitors. Not only do they take advantage of the networking and learning opportunities at Baselworld, they also make time to visit neighboring countries and tour the factories of watch brands sold at Brinker's Jewelers.
"We went to Dresden, Germany and toured the Nomos factory to learn more about the watches and how they work," said Dean. "We like to sell watches we believe in and that have similar values to our own. We like to see behind the scenes before we sell any watch to a client."
The experience and education Dean and the team encounter while at Baselworld only heightens the skill set Brinker's watch department collectively possesses.
"Watch brands are constantly trying to perform better with each model. We want to learn as much as we can and provide the most value to our client. Fine timepieces are an investment and we want to protect the interests of our clients."
Aside from touring Germany's finest watch factories and networking with industry manufacturers, one of the more exciting perks of attending Baselworld is seeing the new watch releases. Watch brands and manufacturers use Baselworld as a soft launch for their new models to be released later in the year.
"We get to see new products first hand, and give our feedback to the brand manufacturers. This allows them to gauge the interest in certain models and make any tweaks to watches before the global release," explained Dean.
Below you can find images taken by the Brinker's Jewelers team at Baselworld and a sneak peek of what is to come this year in watches and accessories.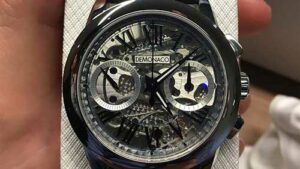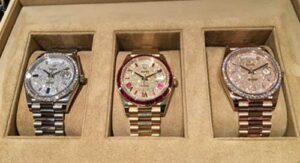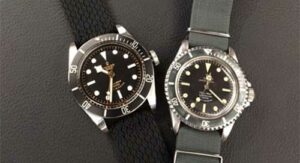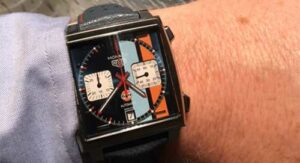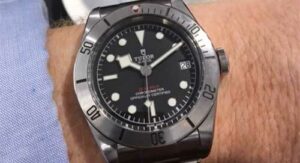 Stop by our store to see our selection of high-end watches, or contact us by phone 812.476.0651 with any questions you may have.