Brinker's Jewelers Appoints Ben Stahl as New COO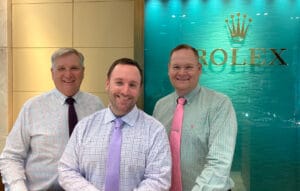 Evansville, IN – May 12, 2022 – Brinker's Jewelers announced Friday, May 6, 2022 that Ben Stahl has been hired as Chief Operating Officer of Brinker Manufacturing Jewelers, Inc. An experienced business leader, Stahl has over 24 years of jewelry industry experience and holds an MBA from The College of William & Mary in Virginia. He is a Graduate Gemologist from the Gemological Institute of America (GIA) and holds a Certified Professional designation from the Society for Human Resource Management (SHRM). Stahl comes to Brinker's Jewelers from The Edge Retail Academy where he consulted independent retailers across North America in key aspects of business strategy, performance indicators, industry growth and human resources. Prior to working as a consultant, Stahl was a General Manager for Schiffman's Jewelers (North Carolina) for more than ten years in Virginia, and Dunkin's Diamonds in Dublin, Ohio for ten years prior to that.
 "We are excited to have Ben Stahl on our team because of his background and reputation in the industry as someone who pushes retailers to grow and improve their business. Previously we worked with Ben through the Edge Retail Academy. When this opportunity came up to add him to our executive team, we didn't give it a second thought." said Kyle Brinker, CFO, CMO of Brinker's Jewelers. "His experiences and knowledge in retail and wholesale businesses will help us navigate new opportunities in our industry and enable us to achieve our aspirations as an organization."
About Brinker's Jewelers
Headquartered in Evansville, Indiana, Brinker's Jewelers is a third-generation family-owned business. Celebrating their 50th Anniversary in August 2022, Brinker's Jewelers sells fine jewelry and timepieces from the most preeminent brands in the industry. They specialize in jewelry design and manufacturing as well as jewelry repair and watch repair with the help of their talented team of professionals at their on-site repair facilities. The Evansville, IN location is an Official Rolex Retailer and Rolex Plaque Service Center.  In 2021, Brinker's Jewelers expanded operations with a first of its kind, luxury jewelry boutique at The Silverleaf Club in Scottsdale, Arizona. The new store serves the members of The Silverleaf Club, the Silverleaf community and their guests.